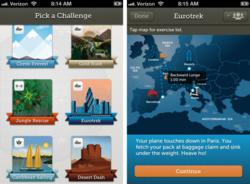 San Francisco, CA (PR Syndication) June 28, 2012
Bonnier R&D and Ammunition announce the launch of Teemo, the iPhone game that turns spare minutes into fitness adventures.
Most mere mortals have trouble sticking to an exercise routine. But what if you had an expert trainer to show you what to do, a crowd of friends to cheer you on, and an epic adventure to inspire you? That's the idea behind Teemo, a new game for the iPhone that combines proven training techniques, social motivation, and exciting adventures to help people get moving.
Teemo players can invite Facebook friends to join virtual adventures that will transport them around the globe, like catching a jewel thief, performing in a traveling circus, or sailing the Caribbean. In real life, players will be doing fitness-boosting activities like squats, lunges, jumping jacks and bear crawls—from the comfort of home or any location with a few square feet of empty space.
Unlike other fitness games on the market, Teemo relies on cooperation with friends rather than competition. With engaging adventure narratives, short-and-sweet workouts and a beautiful user interface, Teemo makes exercise simple and fun.
"We live in a world that likes to force people into defining themselves as either a charged-up athlete or a sedentary non-athlete. With Teemo we are working to create a realistic alternative with the power to help lots of people integrate simple, healthy exercises into their daily lives and relationships," says Ammunition partner Matt Rolandson. "Our goal is to help people get healthy and have fun by exercising together, even when they're apart."
"Research suggests that the people most likely to stick to 'quantified self' fitness tracking are exercise enthusiasts and folks with a medical need. Those of us who fall in between often have trouble staying motivated despite our best intentions, unless we're inspired by a greater cause," says Bonnier R&D program director Megan Miller. "Most fitness games are based on competition, but Teemo focuses on teamwork and fun instead, letting you cooperate with friends to achieve a common goal, while tracking behavior in the background."
With Teemo you can:

    Complete epic virtual adventures like climbing Everest or hiking the Inca Trail
    Create teams and accomplish goals together, in the style of a relay race
    Track your progress and win rewards as you improve your fitness
Teemo's exercises are designed to be quick but super-effective, based on proven interval training techniques (alternating bursts of higher-intensity exercise with short recovery periods). Studies have shown that interval training provides health and fitness benefits equal or superior to the "long, slow" workouts associated with endurance training.
Teemo is available for download (at a regular price of $2.99, but free for a limited time) in the Apple App Store. For more information, visit goteemo.com and follow Teemo on Twitter (@goteemo) and Facebook (facebook.com/goteemo"> for updates. Go Teemo!
About Bonnier
Bonnier is a multimedia company with businesses in 16 countries. Bonnier R&D is the company's award-winning innovation team, which develops cutting-edge digital products for the next generation of media consumers. The R&D team is co-located in Stockholm and San Francisco under the leadership of Bonnier SVP Sara Öhrvall. For further information, please visit bonnier.com/rd.
About Ammunition
Ammunition is a product, identity, and interaction design company based in San Francisco. The firm is led by renowned industrial designer Robert Brunner and his acclaimed partners, creative director Brett Wickens and strategist Matt Rolandson. The Ammunition team is comprised of designers, engineers and brand strategists dedicated to creating product, service, and brand experiences that matter. The company has capabilities in industrial design, graphic design, design strategy, brand development, packaging, engineering, web development, user interface, prototyping and production implementation. Voted one of the "ten most innovative design firms" by Fast Company, Ammunition has been featured in top business and professional publications, including BusinessWeek, Metropolis and ID Magazine. For further information, please visit ammunitiongroup.com.
# # #
Authors: PR Syndication