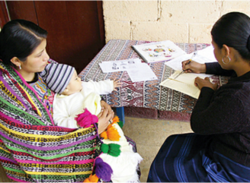 A Guatemalan woman receives nutrition education counseling.
Bethesda, MD (PR Syndication) June 19, 2012
The United States Agency for International Development (USAID) has awarded Bethesda-based University Research Co., LLC (URC) a new five-year, $32 million cooperative agreement aimed to improve the nutrition and health status of women and children in Guatemala. The country has the highest chronic malnutrition rate in Latin America and the Caribbean and the fourth highest worldwide.
The Community Nutrition and Health Care Project (CNHC), which begins this month, will be one of USAID/Guatemala's flagship projects to support two priority areas of the US Government's Global Health and Feed the Future Initiatives: 1) improving access to and quality of health services in Guatemala, with an emphasis on reducing inequitable health outcomes among rural and indigenous populations and 2) preventing and treating chronic malnutrition and under-nutrition for children under two years.
With partners SHARE, Mercy Corps, The Manoff Group, the Institute of Nutrition of Central America and Panama, and The Cloudburst Group, the project will work to:

    Improve the nutritional status of women of reproductive age and children, focusing on intervening during the critical time when a woman first becomes pregnant through her child's second birthday, known as the "first 1,000 days";
    Strengthen essential maternal, newborn, and child health care and family planning services at the community level; and
    Engage communities to actively seek solutions to their health care and nutrition needs.
"We have the opportunity to make real, lasting changes in the lives of women and children who are vulnerable to malnutrition," said Ms. Elena Hurtado, Chief of Party, who will lead the project. Hurtado is a Guatemalan social scientist and public health professional with over 25 years of international experience in nutrition; infant and young child feeding; behavior change communication; community participation; and maternal, newborn, and child health.
URC has worked in Guatemala for the past 15 years, supporting the Ministry of Health to improve the quality of care in several technical areas, including maternal, newborn, and child health and family planning.
"This new project continues URC's important work worldwide and in Guatemala to improve the health and well-being of those most in need and builds on the incredible work done by our Guatemalan team," said Dr. Tisna Veldhuijzen Van Zanten, Senior Vice President for URC.
Caused by an improper or insufficient diet, malnutrition has irreversible effects on children's physical and cognitive development, often causing stunted growth and other medical problems and ultimately reducing their earnings potential. Half of Guatemalan children under five are chronically malnourished.
Compounding the problem are socioeconomic inequalities among indigenous and rural populations. With lower incomes, less education, and more difficult access to health care than urban and non-indigenous populations, Guatemalans living in the Western Highlands region more frequently face severe malnutrition.
According to the Ministry of Health, the rate of chronic malnutrition among indigenous children is almost double that of non-indigenous children. Mortality rates in children under five are also higher among rural and indigenous children, with the most common causes of death—diarrhea and respiratory infections—strongly linked to malnutrition.
About URC
Established in 1965, URC is a global company dedicated to improving the quality of health care, social services, and health education worldwide through programs in over 40 countries, including the global USAID Health Care Improvement Project. With its non-profit affiliate, the Center for Human Services, URC is based in Bethesda, Maryland, USA, and has more than 850 employees worldwide.
Authors: PR Syndication